Ferrari F8 Spider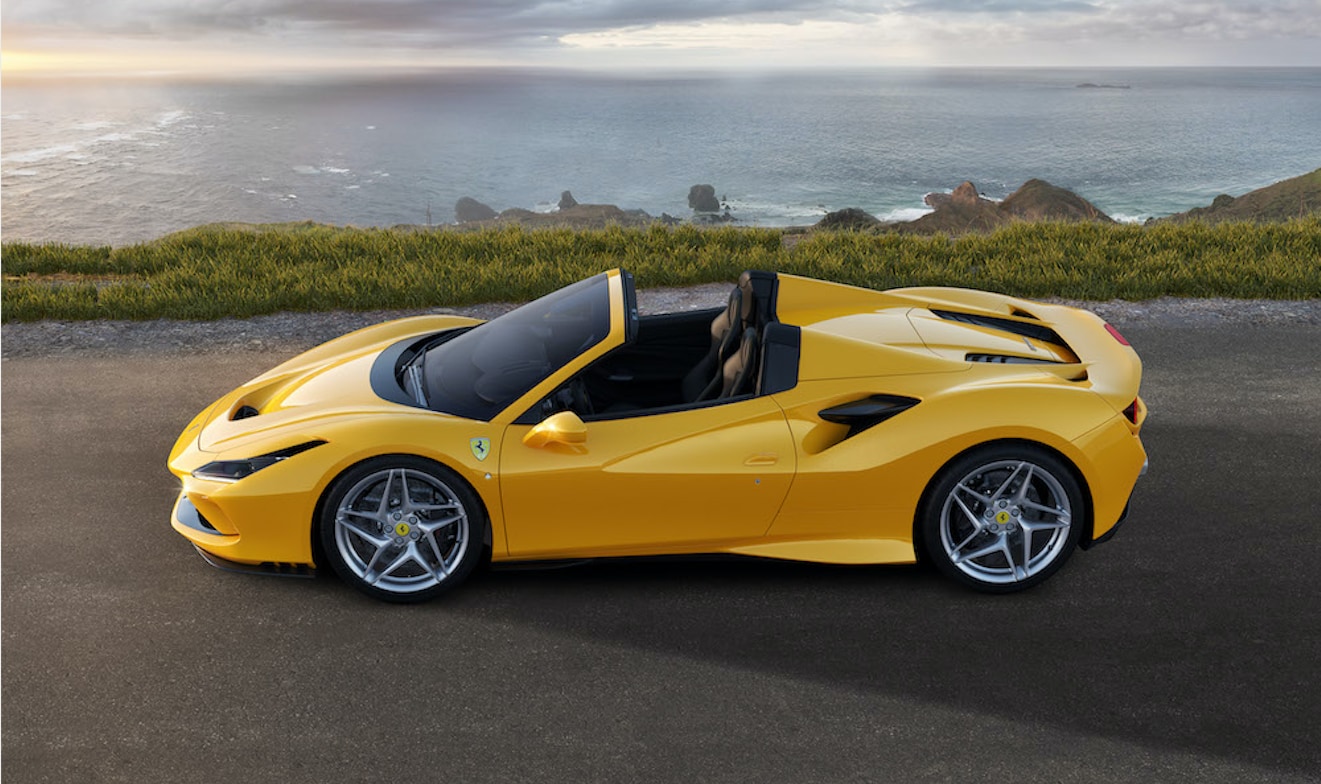 Ferrari F8 Spider: the next generation of open top sports cars with a central-rear V8 engine
The new Ferrari F8 Spider was inspired by the F8 Tributo berlinetta, adding the Retractable Hard Top (RHT) to its design. Less extreme than the 488 Pista Spider but sportier than the 488 Spider, the F8 Spider is the new benchmark in "open air" super-sports models boasting extremely high performance, great handling and a particularly enjoyable driving experience.
This Ferrari spider is able to combine the qualities of the most successful 8 cylinder engine ever with the pleasure of driving in any conditions. It is based on the same unit that won the "International Engine of the Year" award for four consecutive years (2016, 2017, 2018, and 2019), as well as being recognized as the best engine of the last 20 years. An incredible achievement for an engine, and a feat unparalleled by any other engine in the history of the award.
The F8 Spider can deliver 720 cv instantaneously, with no turbo lag, and retains the unique V8 sounds by integrating innovative aerodynamic solutions, developed from race experience, into the chassis.

The F8 Spider is the successor to the 488 Spider, and improves on its specifications: in addition to the engine, which can deliver an extra 50 cv, the new Ferrari is 20 kg lighter than the previous model. It weighs a mere 20 kg more than the more extreme 488 Pista Spider.

It boasts a significant increase in aerodynamic efficiency and the new 6.1 version Side Slip Angle Control.
TECHNICAL SPECIFICATIONS

DIMENSIONS

Length: 181.5 in
Width: 77.9
Height: 47.5 in
Weight Distribution: 41.5% front – 58.8% rear

ENGINE

Type: V8 – 90° – turbo – dry sump
Total Displacement: 238.1 cu in
Maximum Power Output*: 720 cv (530 kW) @ 8000 rpm
Maximum Torque*: 567 @ 3250 rpm lb ft
Specific Power Output: 1.94 kg/CV
Maximum Engine Speed: 8000 rpm
Compression Ratio: 9.6:1